Overview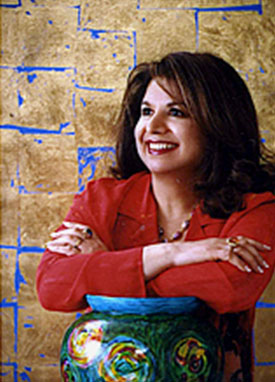 Hanaa F. Al-Wardi is an Iraqi-born multimedia studio artist based in Southern California.
She received her Master's Degree in Medical Microbiology from California State University, Long Beach, and Master's Degree in Fine Arts from the Claremont Graduate University. Claremont, California. She is the founder of the Museum of Contemporary Arab Art (MOCAA) based in Alhambra, California. MOCAA was founded in 2000 as a non-profit private organization, to exhibit her work and host highly accomplished artists from around the Arab world.
The Artist/Author and poet, exhibits her work nationally and internationally and has participated in numerous discussions and television panels on her artwork.
Her artwork features political issues, personal stories and environmental concerns. A short list of her most prominent exhibits are included below:
OPERATION DESERT SLAUGHTER
IRAQ IS BRAIN DEAD
SOFT TARGET
COLLATERAL DAMAGE
EXPOSED
LETTERS TO THE PRESIDENT
ACID RAIN
REACTION
HOME
DESTINY
DISMANTLING
THE WALL SERIES

DESPERATE JOURNEY